Changes to the Supervisory Board of East-West Seed bring fresh perspectives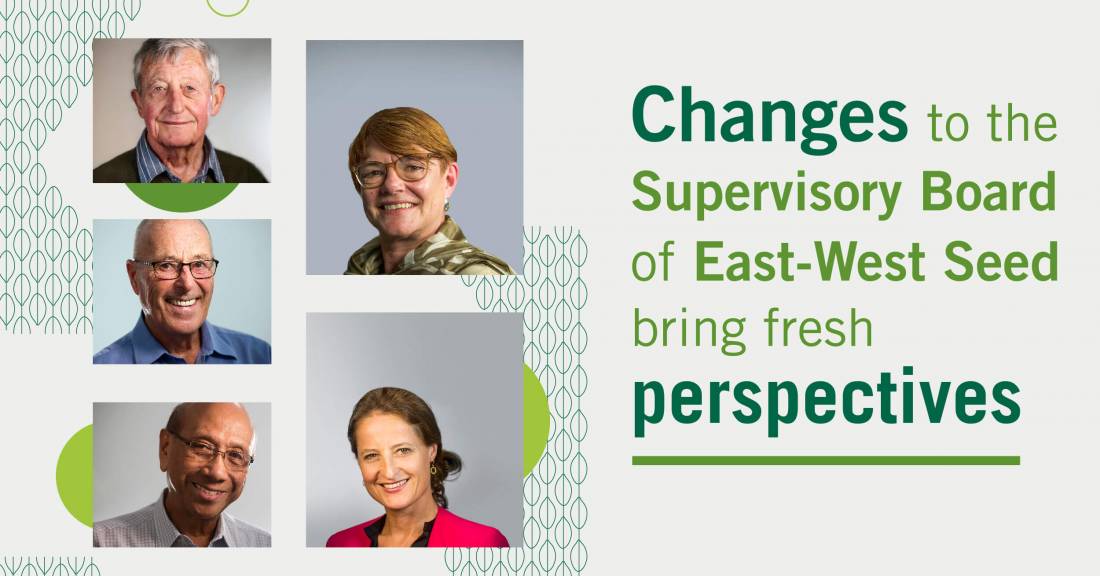 We are pleased to announce that Mary Sue Rogers and Maaike Groot have been appointed as new members of our Supervisory Board.
Ard Groot, Chairman of the Supervisory Board: "I am pleased to welcome Mary Sue and Maaike to our board. The recent period dominated by Covid-19 has been challenging, and made us accelerate the pace of our business transformation. By bringing new ideas and perspectives, our two new Members will help make this transformation a success."
Bert van der Feltz, CEO, adds; "This appointment signals our push towards greater diversity and inclusion, in all teams and at all levels. East-West Seed is truly multicultural and has a global footprint. Reason why we need diverse voices, also in positions of power. And not only hear, but deeply understand and respond to the needs of our staff, our grower-customers and their communities. This way we will continue to adapt and innovate.
Diverse teams outperform, so we need to make sure every single East-West employee really feels part of a team, feels respected and listened to. Once we get there, everyone on our staff will give his or her very best. Diversity stretches beyond gender; it includes race, religion and all those other unique traits that makes humankind so special."

Mary Sue Rogers comes to us following various executive and non-executive positions in the areas of Human Resources and Talent Development.

Maaike Groot joined East-West Seed in 2014, helping to externally position the company and building partnerships. In addition to her new position as Supervisory Board member, she will continue in her present Public Affairs role at the company.

Simon Groot, Dietrich Schmidt and Johnny Santos have formally retired from the Supervisory Board. 'I am very thankful for the huge contribution that Dietrich and Johnny made to East-West Seed. I am glad that they will continue to do so in their respective roles in the US and in the Philippines', says Ard Groot.

Dietrich will continue to support our R&D activities in North America, While Johnny Santos will remain an Advisor to our company in the Philippines and also Chairman of the East-West Seed Foundation.

Simon Groot, founder and honorary chairman of the Supervisory Board will continue to support the next generation of leaders at the company.
- Meet our Supervisory Board -
Read more about East-West Seed's Governance and Strategy here