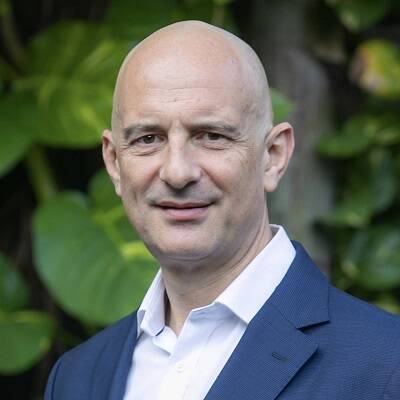 Jean-Christophe "JC" Filippi
เรื่องราว
Jean-Christophe "JC" Filippi is the Chief Executive Officer of the East-West Seed Group.

Prior to joining East-West Seed on 1st April 2023, JC served as the President Asia Pacific at Phibro Animal Health Corporation from 2020 to early 2023. He held various leadership positions in the Asia Pacific region for Cargill Animal Nutrition and Cargill Health Technologies from 2012 to 2020. He joined the Gold Coin Group in 2004, and remained its CEO for seven years.

JC holds a master's degree in Agro Economy and International Development from ISTOM – École Supérieure d'Agro-Développement International in France.

While his roots are in Corsica, France, JC was raised in a small agricultural town near the famous wine-producing region Bordeaux, thus his love for wine and passion for cooking. He keeps an active lifestyle and enjoys sports, especially rugby. JC and his wife Lu live in Bangkok (Nonthaburi) with their two youngest children and are avid travelers, always keen to discover new countries and cultures.

ประวัติ
ทีม : Managing Board
ตำแหน่งปัจจุบัน : CEO
ทำงานกับอีสท์ เวสท์ ซีดตั้งแต่ : 2023
ทำงานที่ : Thailand
การศึกษา
ISTOM – École Supérieure d'Agro Développement International France

Master Degree "Agro Economy and Agri Development in Tropical Zone"